Essential ingredients: Oreos
Yes, the time has come for the second, 'Essential ingredients post. What other than the baking necessity: Oreos?
When I first started researching for this post, I knew there'd be a lot of material. I've been baking Oreos into brownies for years, eaten an Oreo ice cream and bought Oreo chocolate bars for a friend's birthday. I've never considered myself ignorant to world of Oreo varieties, products and recipes, until now.
Although my general posts tend to lean towards a growing obsession in the UK, I think other countries may just have the edge when it comes to these cookies in particular. This time, I think we may just have a global obsession on our hands!
The range of products has genuinely amazed me.
There's even a Fashion chain rising!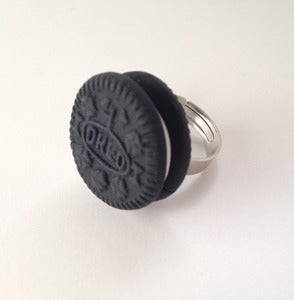 (Check out Jellybuttonjewellery.com for amazing Oreo jewellery!)
There's even a diet range! I'm not sure what the point in eating Oreo-type things is if you're on a diet but apparently there is a market!
...I'm not even sure what some products genuinely have to do with original Oreos...
But overall I gotta hand it to the Chinese for the craziest National Oreo obsession.
Although you do have to admit..the British know how to do cereal better!
And the madness doesn't even end at the extensive product range! The world has become Oreo obsessed I tell you! Check out the new bake sale!
Does it stop there? Oh no. What would the World of modern art be without the oh so classic Oreo?
It's even helping innocent victims of physics GCSE!
He doesn't look anything like an Oreo but you've got to commend his spirit!
Some examples of gorgeous and delicious Oreo recipes...
-Oreo Chocolate Cake!
-Oreo Chocolate chip Cookies! (I know-WOW.)
-Oreo Panda Cupcakes!
-Oreo Truffles and Cake Pops!
-Chocolate Oreo Creme Trifle!
-Oreo chocolate and cream waffles!
-Oreo chocolate creme sundae!
-Oreo Pizza?!
-I have no idea what these are but I definitely want one.